Hey there friend!  I'm so glad you're here.  I know life has been tough lately, why not treat yourself and take a break?  A vacation, even?  How about that dream vacation to Hawaii?  The airline price wars have begun so round trip flights out of the Bay Area are available for less than $350!  Even you East Coast buddies can jump on these discounts.  Airline prices dropped over the weekend, so now's your chance to go bargain-hunting for budget-friendly flights.
I'll leave you to do your own research on flights, but I will say this: make sure you're on the Big Island from September 14th-17th and you're staying at The Mauna Lani Bay Hotel & Bungalows.  Why?  Because that's when my favorite convention is happening—HawaiiCon!  HawaiiCon is a convention dedicated to everything Hawaii, science fiction, science fact, and overall geekdom.  I have said this year after year after year, but HawaiiCon is my favorite convention for a reason.
One of the things I love most about HawaiiCon is that you're just as likely to walk into a panel with scientists giving a lecture as you are a Q&A session between actors and fans.  It's an intimate convention where you can high-five Steve Blum in passing and chat with Rod Roddenberry in line at the cafe.  (I've done both, you can do it too.) You're not going to get that at any other convention.
This year HawaiiCon is gearing up for both the 40th anniversary of Star Wars and the 20th anniversary of Buffy the Vampire Slayer.  (Oy, anyone else suddenly feel old?)  There will be special guests from both franchises, which I definitely want to mention.
From the Star Wars franchise:
Temuera Morrison is coming to the Big Island immediately following his shooting schedule for Aquaman.  "Tem" is a New Zealand actor who is arguably most famous for playing Jango Fett in Star Wars: Episode II – Attack of the Clones and Commander Cody in Star Wars: Episode III – Revenge of the Sith. He also provided the voice of the clone troopers in both films.  Recently he was the voice to Moana's own father and Chief of Motunui, Chief Tui from Disney's Moana.  Morrison doesn't hit the convention circuit often, so be sure to check out his panels!
Daniel Logan is also going to be at HawaiiCon this year reuniting the Fett family.  You may know Logan better as Boba Fett from Star Wars: Episode II – Attack of the Clones.  He has recently reprised his role as the voice of Boba Fett in the animated Star Wars: The Clone Wars television show.  Logan is from New Zealand originally but currently resides in Los Angeles.
From Buffy the Vampire Slayer:
Amber Benson spent three years as Tara Maclay on the cult television series Buffy The Vampire Slayer.  In addition to acting, Benson is also now an accomplished author of several series: Calliope Reaper-Jones is an urban fantasy series, the Echo Park Coven series, and the book Among The Ghosts.  She will be returning to reprise her role of Amelie in the Geek & Sundry web series Morganville later this year, based off the book series The Morganville Vampires.
Charisma Carpenter originally had auditioned for the role of Buffy in Buffy The Vampire Slayer but was cast as Cordelia, instead.  Carpenter was originally hesitant to take on the role of Cordelia because "People might think I'm this awful person, but I'm not–I'm a nice girl".  However, fans and producers liked the character enough that Carpenter was transferred to a bigger role on the spin-off series Angel.  After Angel, she had a repeat role as Kendall Casablancas from another hit television series Veronica Mars.
Nicholas Brendon also known as Xander from the Buffy The Vampire Slayer series originally wanted to play baseball for the L.A. Dodgers, but he had suffered an arm injury and decided to pursue acting thereafter.  Brendon's first major role in a feature film after Buffy was Psycho Beach Party.  He's currently involved with the comic book series, Buffy the Vampire Slayer (Season Ten) and will star in the feature Inspector Chronicles along with Sylvester McCoy, Robert Picardo, Chase Masterson, and others.
Emma Caulfield played Anyanka, AKA Anya Jenkins, on the television show Buffy The Vampire Slayer.  Since Buffy, Caulfield had roles in Monk, Robot Chicken, Private Practice, Prime Suspect, Supergirl, and Once Upon a Time.  She is also the co-creator, executive producer and star of the hit web-series Bandwagon.  Recently, Caulfield has been starring in the series Fantasy Hospital in the role of Nurse Misty Windham.
More fun in the sun!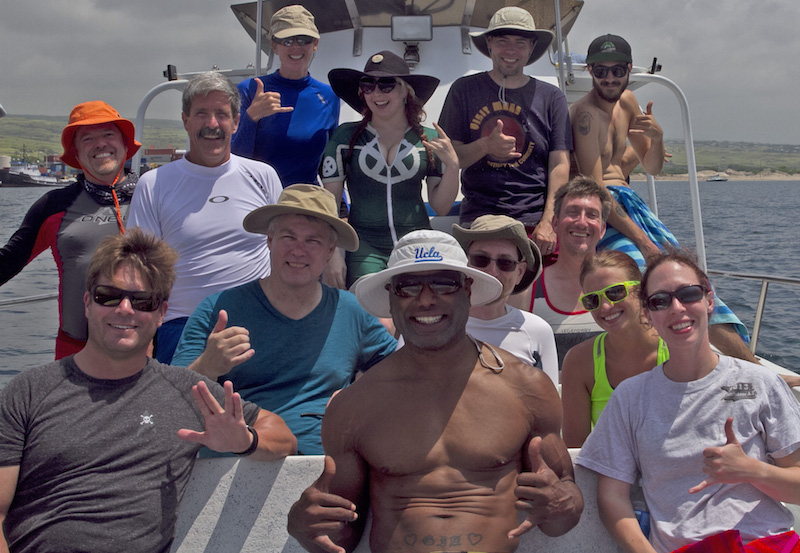 One of the best perks of HawaiiCon is that you're (obviously) in Hawaii.  The producers are very aware that con-goers may want to spend time exploring what the Big Island has to offer outside of the convention – and they've got the hookups for you!  The most unique experiences in fandom happen at HawaiiCon.   You'll have the opportunity to go on an adventure with your favorite celebrities; this can be snorkeling with Tem Morrison at night on the lookout for manta rays (UPDATE: SOLD OUT), or it can be zip-lining across the gorgeous landscapes of Hawaii with Rod Roddenberry, Nicholas Brendon, and Pat Tallman.  For those maybe looking for something more relaxing, you can still join these guest stars at their table during the lu'au.
Where else are you going to see your favorite artists get up on stage to hula?
Gaming at HawaiiCon
If you're like me and your idea of a fun time is tapping your creature cards or rolling dice, fear not!  HawaiiCon's game room is back again this year and better than ever.  HawaiiCon has some amazing sponsors for their game room this year with tons of prizes.  The full list of prizes hasn't been revealed yet, but I have it from CEO GB Hajim that there will be "thousands of dollars of merch in prizes including Wacom tablets!"
I've totally convinced you by now that you need to get to HawaiiCon, right?  Here are the deets you'll need to know:
Who: You and all of your favorite people as one big happy ʻohana
When: September 14th-17th, 2017
Where: The Mauna Lani Bay Hotel & Bungalows (this place is AMAZING and it is 110% worth it to stay at this hotel)
How: Start by going to the HawaiiCon website to buy your passes and book your room.  Once you've registered, you can purchase add-on adventures and workshops with your favorite artists.
Note: HawaiiCon rooms are selling out FAST.  Be sure to start your booking via the accommodations page to guarantee you're getting the HawaiiCon group rate.  If you go through the regular Mauna Lani website it will say that the hotel is completely booked.  If calling in your reservation, be sure to mention you're there for HawaiiCon.  These rooms are only available until August 30th so jump on them now!